Forsythia Lynwood Gold
Beautiful yellow flowers all along the branch in April before the leaves.
Description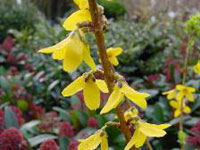 Latin name
Forsythia Intermedia Lynwood Gold
French name
Forsythia Lynwood Gold
English name
Lynwood Gold Forsythia
Carriage
Upright shrub, with an oval carriage.
Foliage
Shrub with the green foliage.
Flowering
Large yellow flowers, similar to small bells very early in spring.
Fruit
Fruits without interests.
Growth
Average growth.
Use
Used in association in the solid masses for its splendid spring flowering.
Height
2.5 meters
Width
1.5 meters
Exposure
Sun, semi-shade.
Zone
4
Reviews
There are yet no reviews for this product.