Rubus odoratus
Rustic, native to Quebec, supports pollution, very appreciated for its flowering.
Description
Latin Name

Rubus odoratus

Common Name

Framboisier odorant

English Name

Flowering rasberry

Carriage
Spreading, irregular.

Foliage
Tender green.

Flowering
Pink to red-purple lilac.
Fruit
Clusters of drupelets, globular, edible but not very tasty.
Growth
Fast

Use
Massif et naturalisation.

Height
2 meters
Largeur
2 meters
Exposition                  

Sun, part-shade, shade.
Zone
4a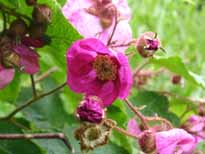 Reviews
There are yet no reviews for this product.