Hydrangea pan. Kyushu
Popular for its long white cream panniculus. They occur in abundance in August and persist until frost. Male flowers and female flowers on the same panniculus giving an appearance of lace.
Description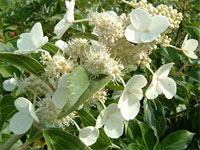 Latin name
Hydrangea Paniculata Kyushu
French name
Hydrangée Kyushu
English name
Kyushu Hydrangea
Carriage
Shrub of rounded shape whose stems are strong.
Foliage
Pointed, oval leaves and of a beautiful shiny green.
Flowering
Long cream-coloured white panicles. They appear abundantly in August and persist to the frosts.
Growth
Fast growth.
Use
This beautiful plant can be used isolated or in associations for its beautiful flowering.
Height
2 meters
Width
1.25 meters
Exposure
Sun, semi-shade.
Zone
3b
Reviews
There are yet no reviews for this product.