Spirea japonica Little Princess
Spirea with a beautiful golden foliage with bright red new growth all summer and dark pink flowers in early summer. Dwarf variety, very nice specimen.
Description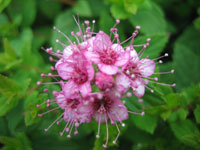 Latin name
Spiraea Japonica Little Princess
French name
Spirée Little Princess
English name
Little Princess Spirea
Carriage
Small dwarf shrub forming a regular mound.
Foliage
Fine clear green foliage.
Flowering
Pale pink flowers in the middle of the summer.
Growth
Average growth.
Use
In groups, in association, like floor covering or isolated, this plant is interesting for its flowering.
Height
0.5 meters
Width
0.5 meters
Exposure
Sun, semi-shade.
Zone
3
Reviews
There are yet no reviews for this product.